Meor Amri Meor AyobChief Executive Officer /
Executive Director
Meor is the Chief Executive Officer / Executive Director of Bond Pricing Agency Malaysia Sdn Bhd. Over the last 5 years, Meor has progressively developed BPAM's core business to become the principal source of valuation and data reference on the Malaysian Bond and Sukuk market.
He continues to reinforce BPAM's position as a specialist in valuation and to expand its reach with its stable of innovative products, providing world class data in keeping with Malaysia's leading position in the global Sukuk market.
He has also been appointed as a FAA Accreditation Panel member. The FAA or Finance Accreditation Agency is an international and independent quality assurance and accreditation body supported by Bank Negara Malaysia and Securities Commission Malaysia. As a panel member, his role is to provide input on the various learning initiatives within the Finance Services Industry.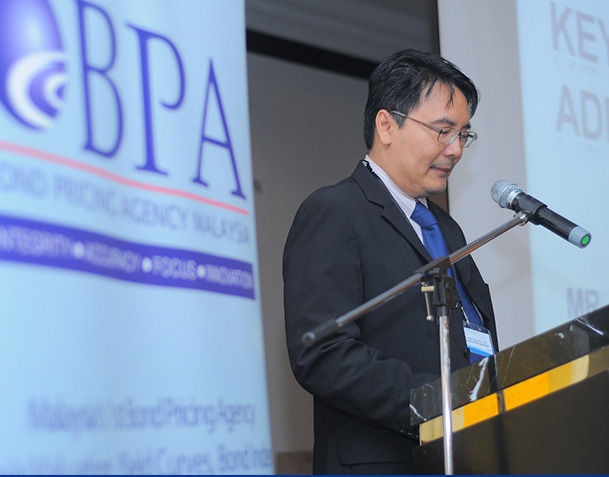 HEAD OF DIVISION
Lee Shiau Wei
Corporate Services
HEAD OF DEPARTMENT
Haza Rina Borhan
Corporate Client Relationship Management
Mohammad Izzad Halimi
Data & Content Management
Lee Shiau Wei
Finance, Investment & Human Resources
Noor Bazlina Sharifmuddin
Financial Engineering & Research
Juliana Chooi Whye Ling
Information & Technology
Sharlyna Alis Sharkawi
Legal, Compliance & Secretarial
Audrey Chai Mei Ling
Partnerships, Retail Products & Media
DEPARTMENTS
Corporate Client Relationship Management
Data & Content Management
Finance, Investment & Human Resources
Financial Engineering & Research
Information & Technology
Legal, Compliance & Secretarial
Partnerships, Retail Products & Media
Pricing